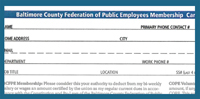 Not a member? Sign up now!
If you are not currently a member, you can download a sign-up form here. The form needs to be printed, filled out, and mailed to BCFPE, 305 W. Chesapeake Ave, Suite L30, Towson, MD 21204. Call us with questions or to make other arrangements (410) 296-1875, or jripley@aft-maryland.org. 
Members: Update your Contact Information
Does BCFPE have your current contact information? We are reaching out to all members to update their contact information in our database. We want to keep you abreast of all of our activities, and in a time where it is difficult to meet in person, we especially need our members' mailing and email contact information.
Please click here to update your information: http://aftmd.us/BCFPEmembercontact