Baltimore County Public Employees hired after 2007 are getting long needed relief thanks to the work of the Baltimore County Labor Health Care Review Committee. John Ripley, President of the Baltimore County Federation of Public Employees and an AFT-Maryland VP at-large, served as the chair of the committee. The committee worked to remedy the bifurcated healthcare plans adversely affecting those hired after 2007. When asked what this means, President Ripley simply replied, "this is a great win for labor!"
Under the old plan, county employees hired after 2007 were paying more than $3,000 more, annually, for the same family healthcare plans than employees hired prior to 2007. Under this new agreement, county employees will return to a one rate structure using the rate effective for employees hired before '07. What's best about the deal for labor is that there will be no change to the current 85/15 subsidy split for employees hired prior to '07. This landmark agreement was secured to the benefit of those most recently hired (relative to the 2007 threshold) and with no harm to those who precede that threshold. This deal is the embodiment of labor solidarity. The committee was able to provide aid to one group of workers, without harming another group. 
President Ripley was proud he could secure this win for his members but also sees the larger picture. "This is an enormous win for BCFPE and all Baltimore county employees," he said. The new one-rate structure must first be voted on and ratified by the respective unions representing Baltimore county employees (including BCFPE sibling local, the Baltimore County Federation of Public Health Nurses, Local 5102) before it can go into effect. The ratification process information will be forthcoming from local leadership. Pending ratification, the new structure saving post '07 hires more than $3,000 annually, will go into effect January 1, 2025.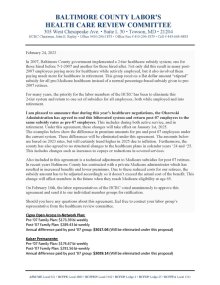 2023-02-28